Hardwood Refinishing Services
Hardwood flooring is known for its natural beauty and durability, but over time even the most beautiful hardwood can lose its luster. Boatman Carpet One Floor & Home is your local source for hardwood flooring and hardwood services, including hardwood refinishing. There is no reason to resort to covering your beautiful hardwood floors with carpet or rug, just call us for refinishing services.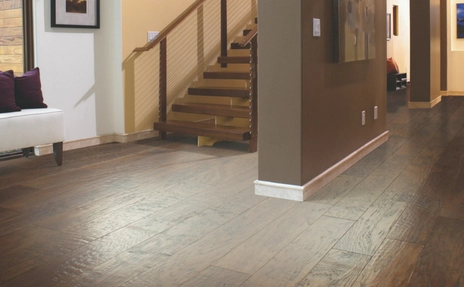 We are often asked if refinishing is worth the cost, and we say yes because it adds a few more years to the life of your floor. Over time, a hardwood floor that is used and walked on every day can lose its luster. Refinishing hardwood floors is the process of sanding the existing layer of finishing product to the bare wood, and then reapplying a fresh coat of finish to your floors to protect them and make them look brand new.
We don't recommend refinishing as a DIY project, which is why we offer refinishing services. It requires time, effort, and a certain level of expertise and experience. A Professionals experiences and resources means your job will get done on time and without mistakes. There are also special methods used to keep the dust down in your home, and leave as little dust behind as possible. The two most popular finishes include water-based and polyurethane finishes. The water-based finishes are more economically friendly but also on the less-durable side, whereas polyurethane is the most commonly used and provides a durable finish.
If you would like to learn more about hardwood refinishing, be sure to stop by our Cypress showroom and speak with one of our flooring professionals to get an estimate!
At Boatman Carpet One Floor & Home in Cypress, TX, we provide hardwood refinishing to all of Northwest Houston.